About this page
This page is about adopting or declining a new design Variation.
Adopt or decline design Variations
New design proposals can either be adopted or declined. These new Variations are on the Variations-tab, visible when selecting an Experiment. Check the design proposals and select the Variation to use in the Experiment.
This is how to select a Variation:
Select Experiments in the left menu, and choose the Experiment to test from one of the 3 tabs (Active, Inactive orAchieved).
After choosing an Experiment, select the Variations-tab and see all posted Variations. The new designs that need 'the adopt-or-decline decision' are in the top-section, called Variations for the next round.
Select a submitted Variations to come to its details-page.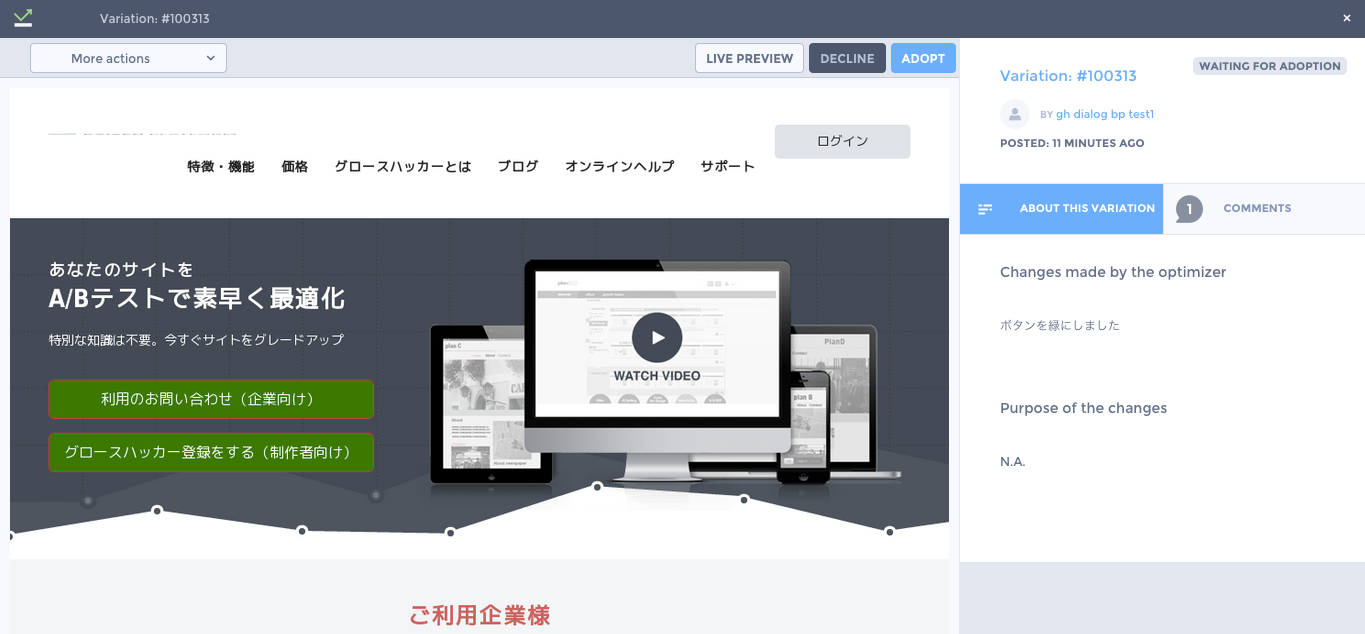 Live Preview is to see the proposed design exactly as it will look in reality.
After studying the preview, select Adopt or Decline.
The Variation now has a label Adopted or Declined on it, and it is saved in the relevant category. Adopted Variations can be used in a Round by clicking Use next round.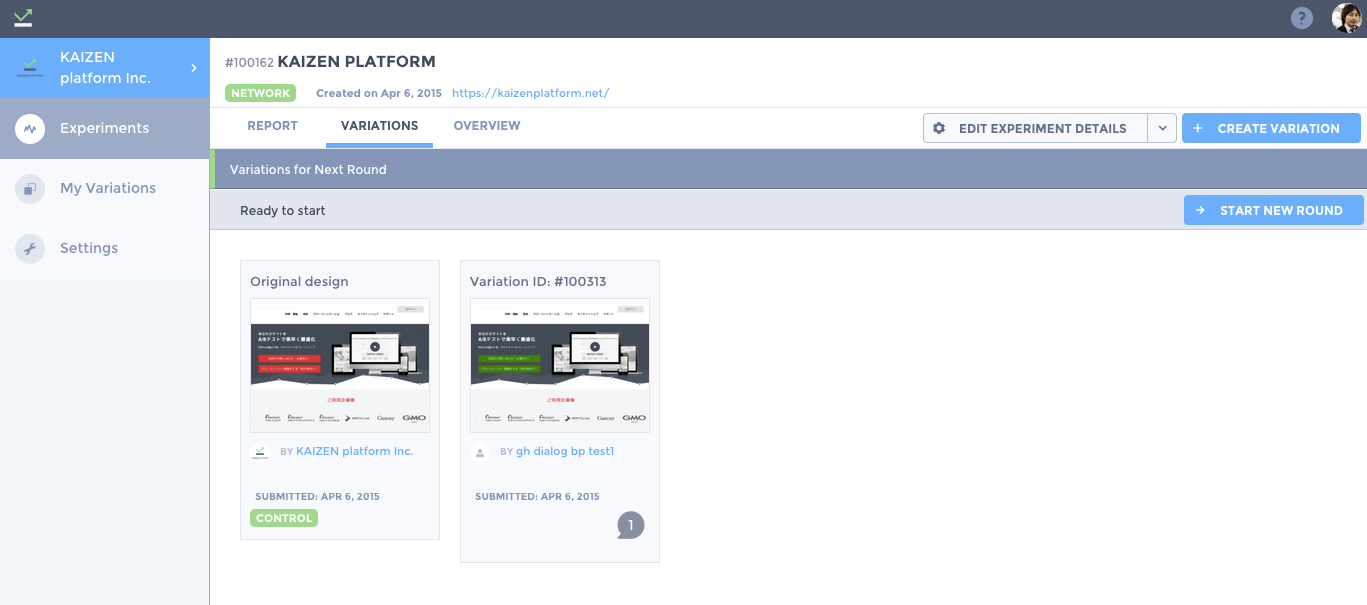 Note that design Variations posted by the creator of an Experiment, are automatically Adopted and will run in the nextRound. Variations posted by Network Optimizers need to be reviewed first, and either be Adopted or Declined.
Different steps of a Private Experiment and a Network Experiment
Private Experiments and Network Experiments have the following different steps:
Private Experiments
Appear in the Experiment details after posting
Select Adopt or Decline
Adopted Variations will be in the Experiment
Network Experiments
After posting, the Kaizen Platform support team reviews the Variations
Variations that pass our review, appear in the Experiment details
Select Adopt or Decline
After adopting, the Kaizen Platform support team reviews again
Variations that pass our review, appear in the Experiment details
FAQ
I have saved a design, but I cannot see it. Where did it go?
Saved designs can be found in the Dashboard. Navigate to the dashboard using the dropdown menu in the top bar.
Can I edit a design after it has been posted?
No. You cannot edit a design after submission. However, the changes made in Kaizen Platform Ui editor are stored in the CSS and JavaScript-tags. You can easily transfer the changes to a new file by copy and pasting the CSS and JavaScript code, then make changes to the copied design.
Open the design you want to recreate in the Kaizen Platform UI editor
Open the JavaScript / StyleSheet positioned at the bottom of the editor.
Copy the CSS and Javascript code.
Open a new editor windows. Apply the JavaScript and CSS to apply the changes.
Use this copy to make the changes you want to. Then submit the updated design.
Can I download the HTML file of a posted design?
No. The Kaizen Platform UI editor only adds JavaScript as alterations to the HTML, but does not actually generate a new HTML file. Therefore you cannot download the HTML-file.