About this page
This page is about setting an Experiment Goal.
Set an Experiment Goal
To set the goal for an Experiment, click Experiment Settings and next the tab Goals. This is where to decide what to measure in the Experiment. Reaching the Sign-up page, adding items to shopping cart or any other action visitors should take.

The Primary goal is used for finding the significant difference by comparing conversion rates. The Primary goal also functions as a measurement point for other goals. All of these are found in the reports.
Create a custom Goal
First Create a new custom Goal on the Goals-tab.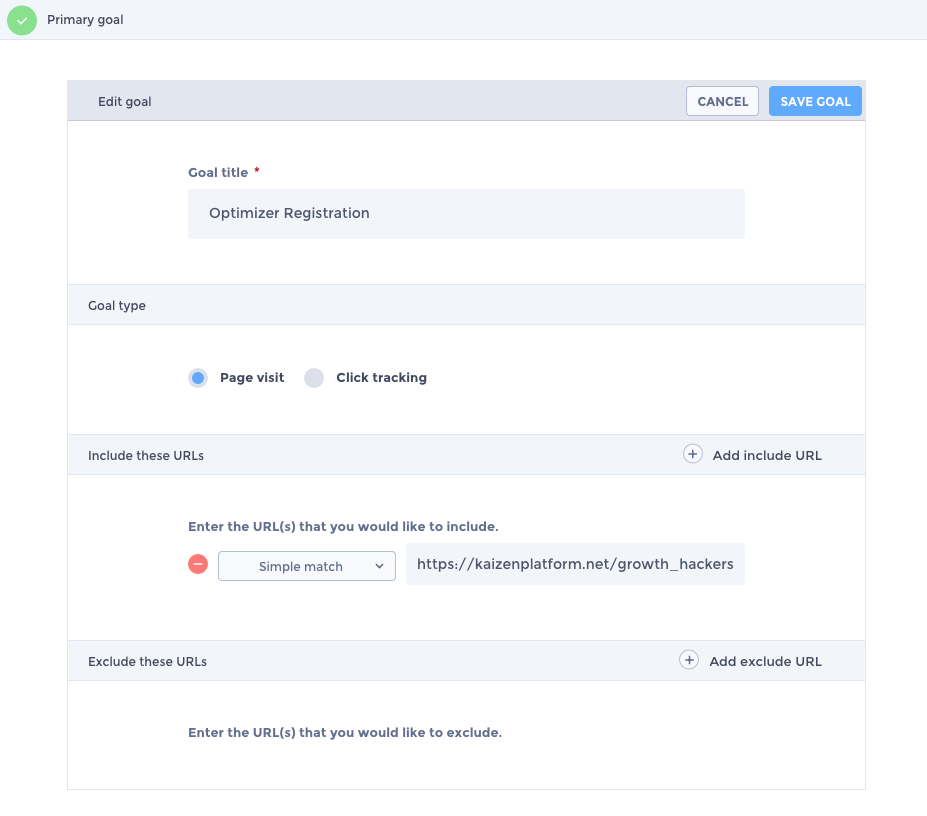 At Goal type, select Page visit or Click tracking. If visits to a page is the goal, select Page visit. If the test page is just one and a Simple match, enter the URL. If the test runs on multiple pages, use the Add include URL -button for extra fields. Excluding pages is possible too. Once saved, the custom goal will be the main goal of an Experiment.
Select Click tracking if the goal is following clicks. There is a snippet to copy and past into the HTML of all links and forms that will be tested.
Example:(replace XXX with the goal ID number)
<!-- link -->




<a

 

href=

"..."

 

data-kz-track-on-click=

"XXX"

>

buy now

</a>


 

<!-- form -->




<form

 

action=

"..."

>


  

<button

 

type=

"submit"

 

data-kz-track-on-click=

"XXX"

>

sign up

</button>




</form>


 

<!-- any other element -->




<div

 

data-kz-track-on-click=

"XXX"

>

request document

</div>
Set Primary Goal and sub-Goals
Once a custom goal is saved, it becomes the Primary goal. To measure more results within the Experiment, add sub-Goals as Goal2, Goal3, etc.
Keep in mind that the conversion of the Primary Goal determines the Experiment result.
Setting CV value
If you set CV value for goal, you can measure the amount to be generated by improvement in ROI dashboard. For CV value, please register the revenue amount to be generated by CV such as sales price per unit and customer lifetime value.