About this page
This page explains how to set up Click Tracking.
About Click Tracking
Click Tracking is 'measuring the number of clicks on specific parts of a webpage.' In Kaizen Platform K2, this tracking function is one of the tools to measure conversions.
We suggest to use Click Tracking when:
The URL of the Experiment page and the Goal page are the same
Example)You have a multipage entry form on one URL. A regular A/B test doesn't work across several pages. _Click Tracking_ is a way to follow actions across all pages of the entry process.
The goal is to send visitors to an external webpage
Example)You are running an A/B test on a mobile (smartphone) page that aims to send visitors to your App in the AppleStore. Kaizen Platform JavaScript tags cannot be added to AppleStore pages but using _Click Tracking_ is a method to collect this data.
How to set up Click Tracking
In this explanation to set up Click Tracking it is assumed that the Kaizen Platform JavaScript snippet has already been installed. To start a Click Tracking Experiment, follow these steps:
Select or create an Experiment, click Edit Experiment and next the Goal-tab. Select the dropdown of the Primary Goal and choose the last option, Create New Goal.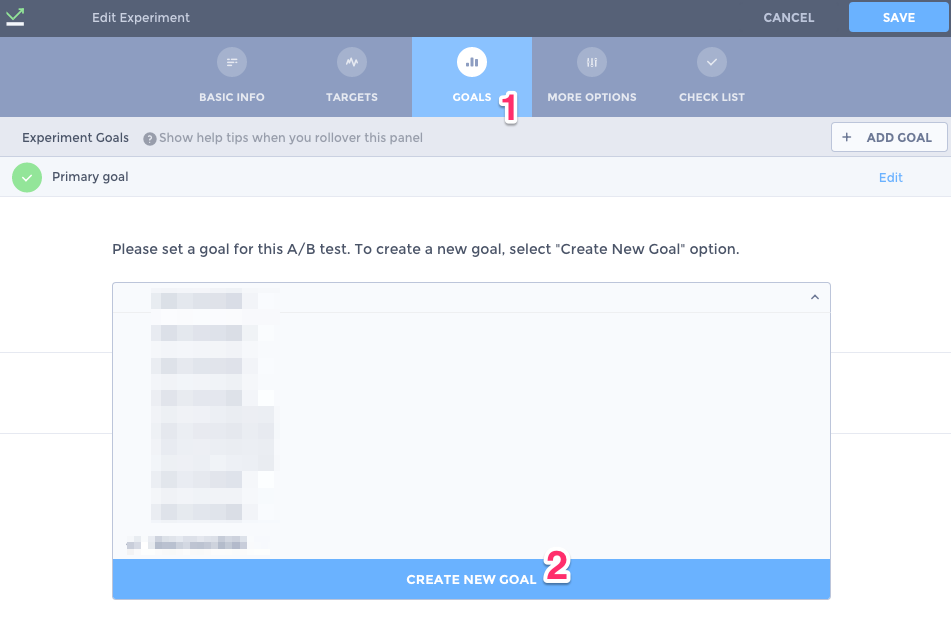 Enter a Goal Title, a Goal Description and select Click Tracking for Goal type.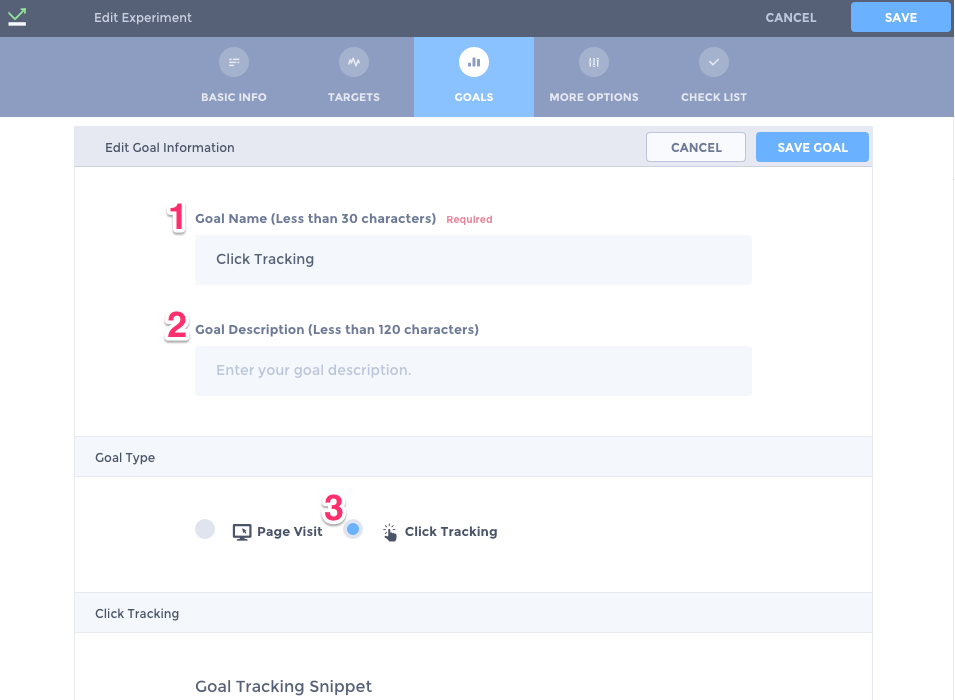 The Click Tracking-section opens, showing a snippet that needs to be pasted onto each page that is included in the test. Please note that the snippet is different for each Goal.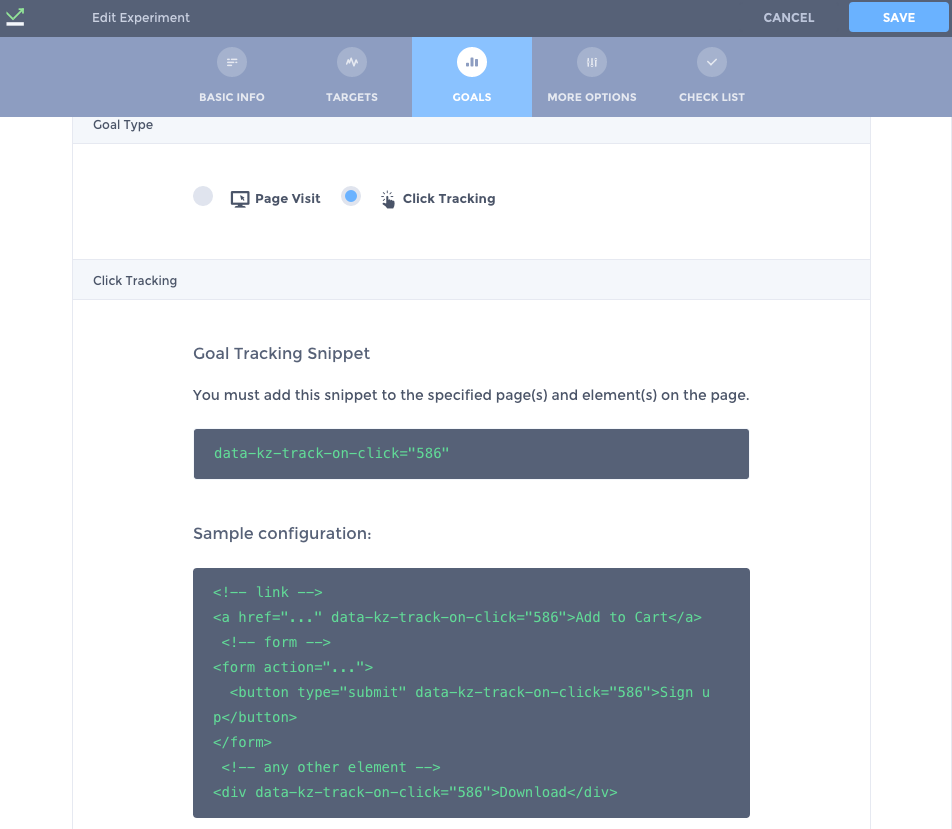 Click 'Save' to save the new Goal. And also click 'Save' to update the Experiment.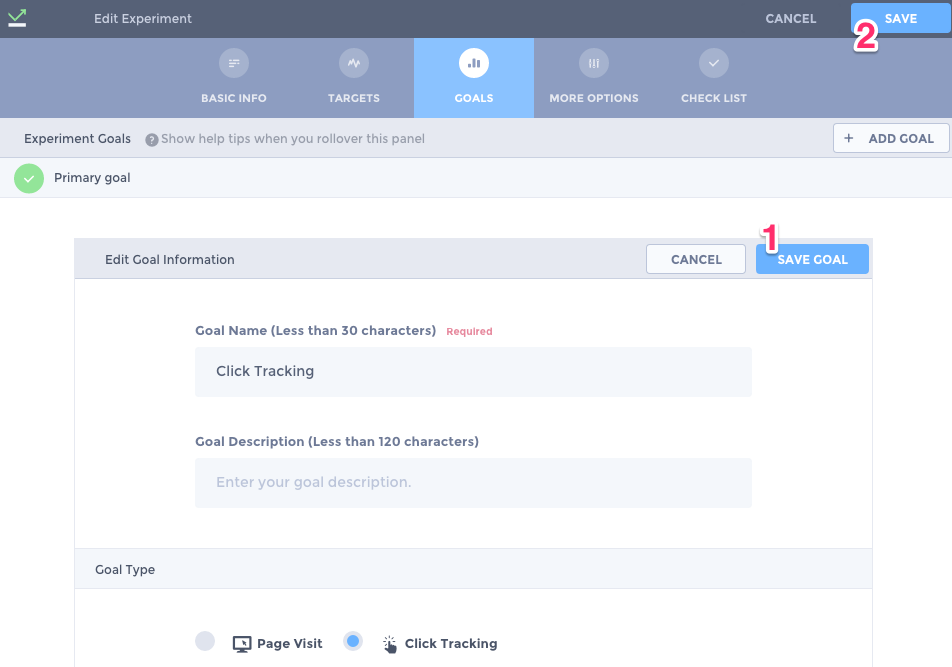 After pasting the Click Tracking-snippet to all Experiment pages, go to the Check List-tab and look at the JS Snippet Connection Status. All Goals should be properly measured, which is indicated by a green circle.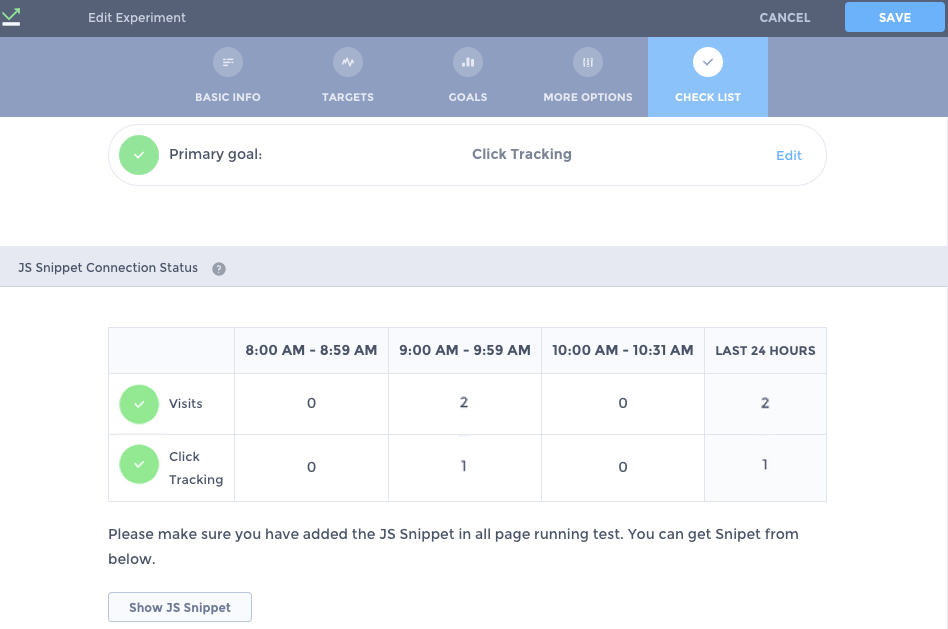 ※In case no test results come in, please do ask our Support Team for help, via chat or by email.
| Question | Answer |
| --- | --- |
| Can I set multiple Click Tracking-tags within the same page? | Yes. However, you will not be able to tell which button was clicked. |
| Will Click Tracking-tags still work if you embed them using Kaizen Platform UI editor? | Yes, they will work. |