About this page
This page is about setting the Targets for an Experiment.
Experiment Targets
To set the Targets for an Experiment, click the button Experiment Settings and next the tab Targets. Specify here theExperiment URLs, the Design editing URL and the Test conditions.
Experiment URLs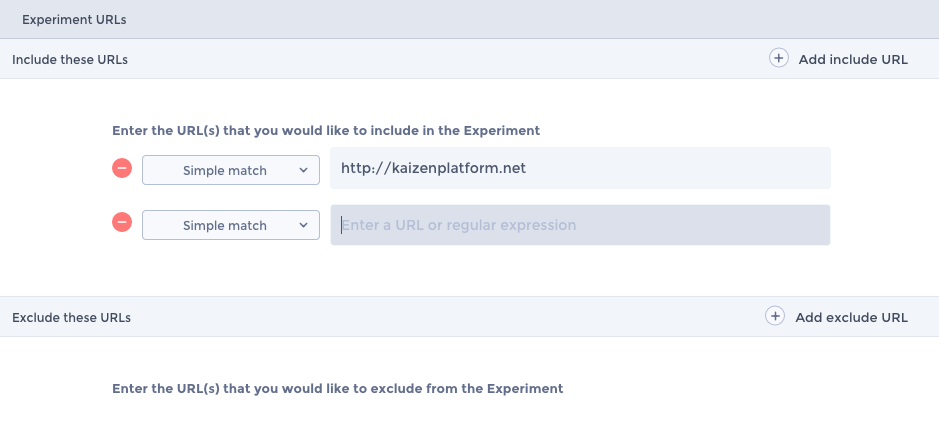 Enter the URL of the page on which the experiment runs. If the test page is just one, keep Simple match selected and enter the URL of the page. If the test runs on multiple pages, use the Add include URL -button for extra fields.
The 'Product page' on a shopping site, or the 'Property page' on a real estate site might need only a part of the URL to be able to include many pages.
In these cases, select Regular expression to describe the part of the URL that groups these pages together.
For more information go to Regular expression.
Use Include these URLs and Exclude these URLs to specify pages that you want to include to a target group, or exclude from a target group you have created.
Design editing URL

This is the page the Kaizen Platform UI editor will use as the Control page. It will compare the Variations in the test against this original page .
When testing only one page, enter that page URL. When testing multiple URLs, you can select only one URL as Control page.
Test conditions

Specify test conditions such as specific devices or specific browsers to include in the test. Or to exclude. Select Customto add regular JavaScript using global variables (for example /city name).